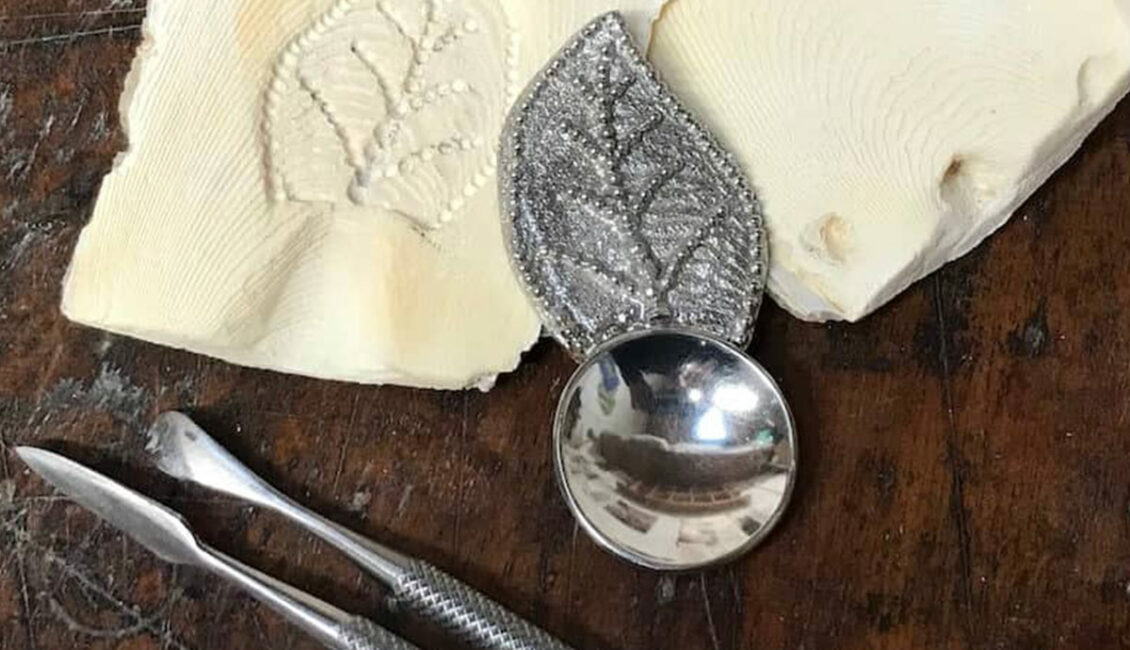 Dates:
16th July – Cuttlefish Casting, make a spoon
3rd September – Cuttlefish Casting, make a spoon
---
CUTTLEFISH CASTING – MAKE A SPOON
Design and make your own pewter spoon, using cuttlefish to make a mould, you will learn the basic principles of working with this lovely metal as you create your own pewter spoon to take home and use.

Each student will begin the day making a simple test piece to practise carving into the cuttlefish and casting the pewter. They will choose a pewter bowl shape for their spoon and then design the handle around it. Using this as the template they will carve into the cuttlefish ready to cast the pewter into it. Once cast, the handle will be filed, cleaned up, soldered onto the bowl and polished ready to use.
£120 including all materials
---
CAST A RING OR PENDANT IN PEWTER.
This workshop goes through some of the basic principles of casting pewter into a rubber mould. Initially carving a wax pattern of a ring or pendant and then use this to make a two-part rubber mould.

You will then pour pewter into your mould and cast a pewter piece, which will be cleaned up and polished ready to wear.
£145 including all materials.
---
Both of these one-day workshops are designed to give a complete beginner or an experienced metal worker the opportunity to learn basic techniques for working with pewter and take home your own unique piece that you have made.
Fleur Grenier trained at the Royal College of Art in London and has 30 years' experience of working with pewter, working from her studio in Angmering she designs and make Pewter homeware which she sells through galleries and contemporary craft fairs, and she is represented by Ruup and Form, London for her sculptural pieces. Fleur has a passion for working with pewter and enjoys passing these skills on to let other people experience this often undervalued metal.
Find out more below:
Book your place here
Visit Fleur Gernier's website here
---