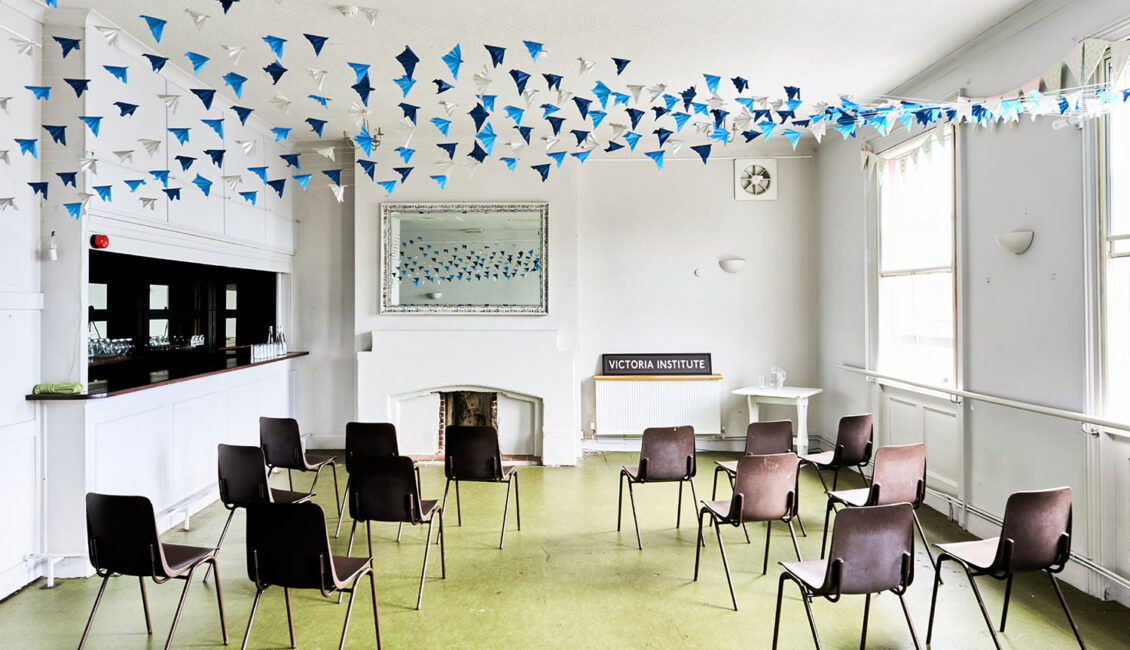 We have just shut down for the second lockdown. We will open again when permitted – COVID safe and determined as ever. With careful programming, increased cleaning and reduced numbers allowed in the rooms and at events, this will work – just. To stay safely socially distanced, the numbers we can accommodate are much smaller. For example, in the large first floor room – the Green Room – we can only welcome 13 people, and people can only arrive and leave via a one-way traffic system on the stairs.
We are going to press on. We are still applying to Arts Council England, English Heritage, National Lottery, Sussex Community Trust, and anyone else we can find for funding to continue our small but significant building improvement plan.
We have just received new funding from the National Lottery Fund's Culture Recovery Fund. The Red Room (our theatre space) is going to receive a substantial uplift – new lighting and seating, projection equipment and insulation. When completed, The Red Room will be an even more flexible theatre and performance space. And, we hope, this space will welcome Arundel residents and visitors to the town's newest pop-up cinema. Yes, a cinema! You can read more about our plans for The Red Room here.
Although the 2020 global pandemic forced us to close our doors our renovation projects can still perhaps more slowly be progressed. We still have our grand plan. The ground floor could be a much more flexible space if it were re-configured and opened up. But even under our current plans we want to make better use of our courtyard space and develop a garden area at the back.
Our dream is to create a beautifully designed, state of the art, community centre with vibrant theatre, dance, film, music, and art gallery facilities. A beacon for the performing arts – not just for our children but also for our children's children, and everyone else in the community and nearby West Sussex villages. A space that is more than just a receiving house for shows and exhibitions, we want to develop community-led programmes to enhance everyone's skills knowledge and experience in the performing arts generally.
We still want to transform The Vic with spaces that can host international artists to attract local audiences and to entice new ones. The new spaces would be flexible enough to double up and provide educational and developmental areas. We want to provide for every local child who shows an interest in any artistic/performing art activity and every adult who wants new opportunities to connect and learn. At the end of the day though, the spaces must also deliver fun and playfulness.
At its core, our dream is to develop a community's awareness of and participation in the broadest possible programme of cultural activities. We want to offer engaging and enjoyable experiences to draw in new audiences, build customer loyalty and ultimately provide sufficient income to pay our own way and to remain financially viable for future generations.
Our grand plan (however long it takes) will transform a much-loved Victorian building in the centre of Arundel, which has served its community well but is currently at the end of its useful life. We want The 'New' Vic to be an inspiring centre to attract new artistic ambition to the whole town and other communities nearby.
Our vision for The 'New' Vic is underpinned by a belief that everyone, no matter where they live, deserves access to first-class art, theatre, film, music, and dance. To provide this locally is more environmentally friendly and can more efficiently build inclusive participation. Our vision is built on a firmly held belief that nurturing this within a community not only needs great space; it also needs innovative educational programmes.
How will we make this all work? With a lot of help from our directors, trustees, management committee and members, and by making The 'New' Vic financially viable for the future. Our initial research shows that, although the spaces are small, a modern building, fit for purpose and with well-developed volunteer support and smart pricing strategies can deliver the necessary programmes with minimum sponsorship.
Would you like to help us to make this happen? Find out how here.
As we all hunker down for another month (or more) of lockdown, let me leave you with these thoughts. For Arundel to thrive as a vibrant community in the 21st century, it could benefit enormously from a modern, inspirational hub in the centre of town in which people of all ages and abilities can connect, learn, enjoy, share and play.
Stay safe everyone, and we hope to see you at The Vic again soon.
John Paton, Chair of the Trustees and Management Committee of The Victoria Institute.